Since 2007 the Workforce Development Unit have been running small group webinars in Adobe Connect Pro. A webinar comprises a group of f2f participants engaged in an online conferencing session with one or more online participants. The Hot Topic Conversation seminar series along with a variety of conference events with guest speakers brought in online in AC are all examples of  webinars. The challenge with webinars is achieving quality audio, the online audience need to be able to clearly hear each speaker in the f2f audience and conversely the f2f participants need to be able to hear the online guests when they are speaking. Typically we have achieved this using high quality wireless or wired microphones for the f2f speakers and a set of speakers to amplify the online online audio for the f2f audience. This involves quite an elaborate setup, for example the one shown below.
For a while I have been in search for a simpler solution, one that is quick to setup, portable, works for up to 10-20 f2f participants and provides quality audio for the online participants.
I recently came across and purchased for trial a Clear One Chat Attach 160 conconferencing unit. Designed for group skype conferencing the unit facilitates voip conferencing for medium and large rooms (10-20 people). The CHATAttach 160 conferencing system, enables even distribution of microphones and loudspeakers as well as centralized access to mute and volume controls. The unit connects to the computer via USB with plug and play operation so that no drivers are required. Working on both MAC and Windows, once connected the unit becomes the computers microphones and speakers. By spreading the 2 pods apart on a table the unit can quite easily cover a conference room table ensuring reliable audio enabling participants to move around freely without being tethered with a headset. The unit also has built in mic gain and echo canceling so you avoid the feedback of the speaker audio into to  microphones.
See the short video below for an overview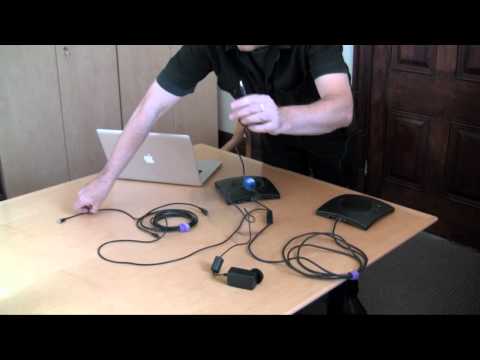 So far we have tested the unit on MAC OSX & Windows 7 with Adobe Connect Pro, Elluminate & Skype with excellent results. At around $1300 Australian the unit can be purchased form a range of suppliers, our trial unit was sourced from Soundcorp.